Maldon U3A



Ten Pin Bowling Group

Group co-ordinator: David Arnold
Time: Every Wednesday and Thursday at 9:45am - 12 noon.
Place: Maldon Height Bowling Lanes.

All those who come along know that the actual bowling is just an excuse to get out, have some fun, meet a lot of nice people, make new friends and have a little exercise. The scores are not important – there are no teams, leagues or tables! It's all very friendly and there are no inquests at the end of each game.

We meet every Wednesday and Thursday morning at 09.45 at Madison Heights. You choose which you prefer. In total between 30 to 50 of us play each week.

At present two hours bowling costs £4.25 but this includes a cup of coffee and cake/biscuits and shoe hire.

They have also provided us with a number of light bowling balls with specially enlarged holes for our older chubby fingers. So come along and join our happy band of bowlers .

On the 4&5th of April 2018, we completed our 800th weekly meeting. There was a total of 55 bowlers on the two days. Sixteen of us have been bowling since 2002. We are full to capacity at the moment and we have a waiting list.

Wednesday bowlers Thursday bowlers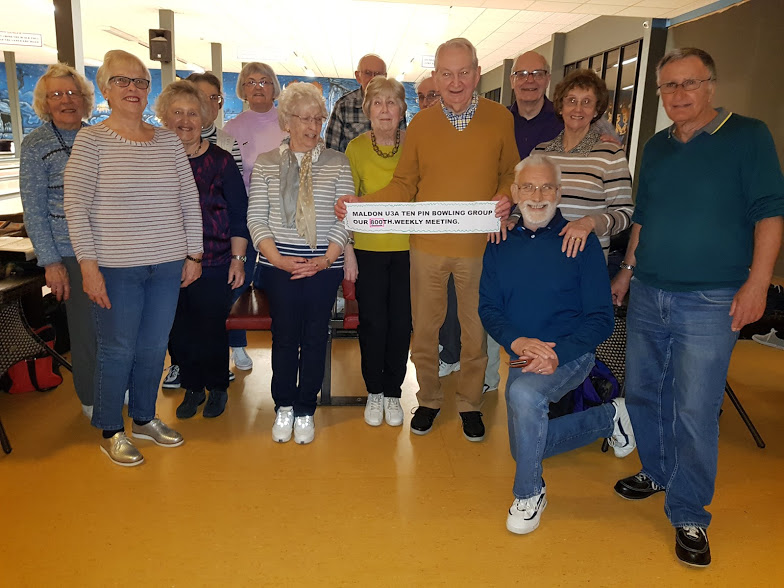 Those who have played since the first session
---
---
Click here to go to the top of this page
Click here to go back to the U3A home page.
Last revised 7th April 2018
---