Maldon U3A - Maritime Group Trip to North Wales
9th - 13th September 2019
Day 1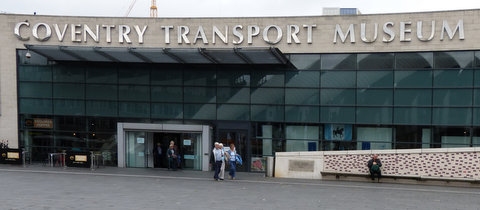 Bleary-eyed but enthusiastic, we left Danbury soon after 7.45 for a rainy drive to Coventry where we visited the Coventry Transport Museum. What a splendid collection of vehicles! Starting with Victorian penny-farthings via the invention of the internal combustion engine to cars and motor bikes of every shape and size right up to the present era, many of them having a particular association with Coventry whose auto industry has all but completely disappeared, Cries of "I remember having one of those!" My little red Mini was there, and royal Daimlers and so many more. A real dose of nostalgia.
Lunch, and on in the rain to our teatime stop at the British Ironwork Centre – doesn't sound particularly exciting but it turned out to be a fascinating collection of life-size animals in a park – deer, hippos, rhinos, zebra, lions, pigs, ponies, several gorillas, not to mention the odd dinosaur and the huge spider that was once at the Tate Modern. I saw Spiderman too, and a vast collection of colourful insects etc. in the shop. The tea and cakes were good too. On to the Bulkeley Hotel in Beaumaris on Anglesey – a Grade I listed building with an interesting history which we will tell you at a later date. Very posh for the likes of us but we appreciated it.
Day 2
A beautiful day with what I suspect was un-Welsh weather. We drove to Blaenau Ffestiniog to the Llechwedd Slate Caverns through the most magnificent scenery. I had no idea Wales was so beautiful – bare, craggy mountains, stone walls, sheep everywhere, the occasional house or two, boulders, waterfalls – all part of the Snowdonia National Park. On arrival we were split into groups for the guided tour. Sixteen of us climbed on to a heavy wooden truck with wooden seats nailed to the wooden floor, open sides, a lap seat belt and not a single spring. Zero elf and safety but soooooo exhilarating! No roads, of course, just pot-holed tracks and terrifying gradients in both directions. And from our guide we learned about the lives of the men who lived in the valley and worked in the mines until as recently as the 1960s.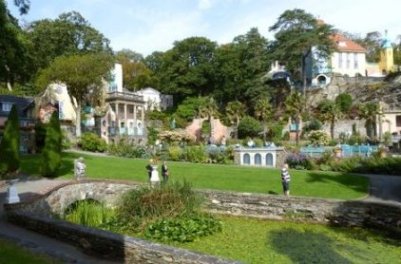 From there we went to Portmeirion, a designer village with a distinctive Italian feel. A complete contrast – it was civilised and much more suitable for a bunch of senior citizens! Nice ice cream too!
On our return to the hotel, we stopped at Caernarfon Castle for a photo opportunity. This castle is where the investiture of the Prince of Wales took place on the 1st July 1969.
Day 3
We set out for Conwy Castle armed with rainwear but didn't need it. The castle was built in the 1280s by Edward I. It was severely damaged in the English Civil War and is now a pretty substantial ruin, well worth a visit.
We also went to the local RLNI lifeboat station where we learned that the volunteers have only six minutes from the time the alarm sounds to get to their station, fully dressed in their gear. (Basically, a onesie undergarment and an all-enveloping top suit with built-in boots) The current boat is an Atlantic 75 D765 which takes a crew of three and is not fit for deep sea work.
Next stop was the National Slate Museum at Llanberis where we had an opportunity to find out more about the lives of the miners and watch a craftsman splitting slates. . We also went in shifts to Electric Mountain . This is an amazing feat of engineering. Dinorwig Power Station, opened in 1984, has 16km of underground tunnels deep in Elider Mountain and there are no visible signs on the outside apart from two lakes where the water is stored. We were driven in a small bus and wore protective helmets. (Everyone had a wear a hairnet under the helmet and that was a sight for sore eyes!) Our guide described in detail the workings of the turbines and how the water comes down a chute and is pumped back up again at night, and all the engineers in our group understood what he was talking about. I did not! But what I did appreciate was the gobsmack factor as I stood in that massive cavern where the six turbines were located . It was like something in a James Bond movie and, for me, a once-in-a-lifetime experience.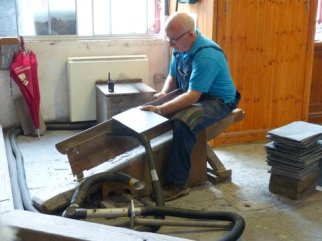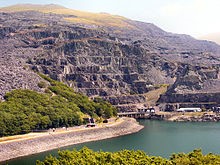 Day 4
At last, some genuine Welsh weather – wet and windy! We went to Barmouth Sailors' Institute, a rare survivor from the days when the families of seafarers always had a meeting place where they could get the latest news about the voyages. The Institute is still open every day for local people to meet and read the papers.
We then visited Ty Gwyn: in 1565, there were only four houses in Barmouth and Ty Gwyn was one of them. Ty Gwyn means the White House It is now the oldest building in Barmouth appearing in the archive record and fittingly it occupies a key location down on the harbour. The building now houses the Bronze Bell Shipwreck Museum, this is about the 1709 wreck and recent salvage operation. Marble was salvaged from this shipwreck, with some of this marble being made into a statue entitled "The last haul" . In both Ty Gwyn and the Sailors Institute we had very knowledgeable guides who gave us a lot of information.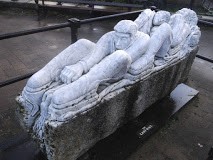 Then on to another lifeboat station, but this one had a much larger Shannon Class heavy-duty all-weather boat with an enormous tractor from which it could be launched.
On the way back to Beaumaris we had a photo opportunity at the railway station at Llanfairpwllgwyngyllgogerychwyrndrobwllllantysiliogogogoch – which means St Mary's Church in the hollow of the white hazel near the rapid whirlpool of Llandysilio of the red cave.
Day 5
Sad to be leaving but still things to look forward to, first to Swallow Falls at Betws-y-Coed, and then the chance to enjoy the drive through the mountains for the last time on our way to a leisurely Canal cruise from Llangollen to Froncysyllte on the "Thomas Telford" with a nice ploughman's lunch served on board and the added treat of being on the aqueduct at the end with a view in both directions. Then it was full steam ahead for Maldon. I expected delays on the motorway, but impressively we arrived in Danbury just ten minutes after the scheduled time, with a brilliant orange harvest full moon overhead. Frankly, we were all bleary-eyed again, worn out, but what a wonderful holiday – the best yet!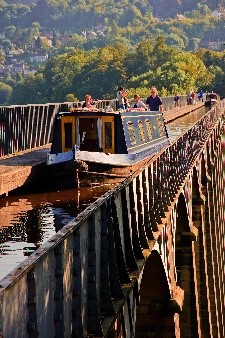 Thank you to Malcolm and Rosemary.
---
Click here to go to the top of this page

This page opened in a new window. Close this window to go back to the Maritime Group's page.

Last revised 19th September 2019
---
---