Maldon U3A - Maritime Visit to Bawdsey
Maritime Group Outing to Bawdsey Radar Museum and Woodbridge Tide Mill on the 1st August 2016
On a bright but cool Monday morning at 8:00am, 51 members left Maldon to visit the Bawdsey Radar Museum Transmitter block and the Woodbridge Tide Mill. An excellent journey with no traffic delays got us to Bawdsey ahead of time. We were met by John and Roy our two guides who gave us a brief overview of the museum and then took us inside to a very welcome cup of tea and coffee, with biscuits. We then went around the museum at our own pace to view all of the many and varied exhibits which gave an interesting history of the development of Radar (Radio Detection and Ranging); John and Roy always being on hand to answer our many questions. The Transmitter Block on the Bawdsey Manor Estate is part of the world's first operational Radar station. In 1935, in a field near to Daventry, Robert Watt and Arnold Wilkins successfully demonstrated that an aircraft could be detected using radio waves. The team soon needed more space and secrecy for research and in 1936 the Bawdsey Manor estate was purchased. The scientists became known as the "Bawdsey Boffins". The development work at Bawdsey resulted in the first ever operational radar station at Bawdsey which became the model for a chain of stations along the coast. Bawdsey remained operational as a research station into the 1990's and as a museum, has recently been awarded Lottery Funding.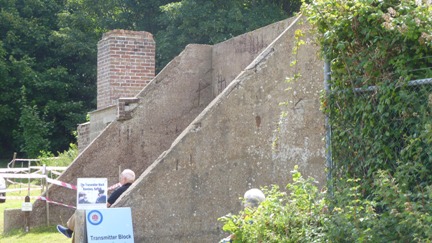 We left Bawdsey at 12:00 and then went for lunch at the Wyevale Garden Centre near Woodbridge.
After lunch we then went to the Woodbridge Tide Mill, where we were met by four guides who divided us into four groups and took each group around the Mill, each guide giving us a very interesting and informative tour which finished with a demonstration of the Mill in operation and milling wheat; we were able to purchase this freshly ground flour. Woodbridge was one of the first tide mills in the country, and was unquestionably the last one working – operating for well over 800 years. The earliest record of a tide mill on the River Deben is in 1170, it was owned by the Augustinian Priors for around 350 years until Henry VII confiscated it. In 1793 the present mill was built on the site of earlier ones. It finally closed in 1957, it was saved and restored and opened to the public in 1973. The mill operates purely on water power, a large "Pond" is filled by river water during the flood tide, then during the ebb tide, the water is released from the pond to drive the large water wheel which in turn drives all of the milling equipment.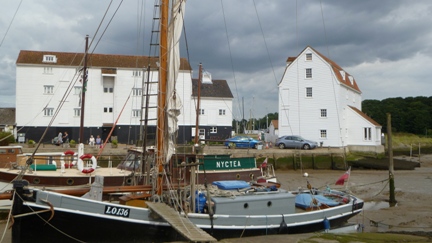 ---
Click here to go to the top of this page
This page opened in a new window. Close this window to go back to the Maritime Group's page.
Last revised 14th August 2016
---
---