Maldon U3A - Maritime Visit to Brightlingsea
Maritime Group Outing to Brightlingsea on the 4th July 2016
On a lovely sunny Monday morning at 8:30am, 39 members left Maldon to visit Brightlingsea. We had an excellent drive there and on arrival we split into two groups, one group visiting the Brightlingsea Museum, while the other group visited the Pioneer Sailing Trust, we changed venues after lunch. Both venues offered tea and coffee on arrival, most welcome after the coach journey.
The Pioneer Sailing Trust was set up in 1999 initially to restore the "Pioneer", and now builds "Gigs" and restores old sailing ships. We were shown around the yard by two very enthusiastic shipwrights, both of whom had served an apprenticeship at the yard. All staff at the yard were very willing to answer our questions and took great pride in demonstrating their work, we were shown a partially restored smack and also a gig being constructed, a fascinating operation, we were also shown a gig in the process of being painted, this was followed by viewing a completed one.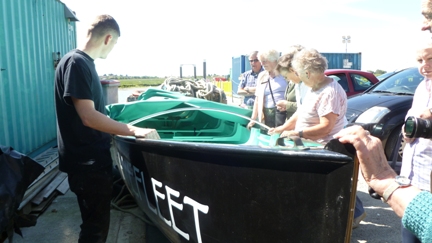 The Brightlingsea Museum was founded in 1989, on arrival there we were shown around by Jack and Brian, both extremely knowledgeable and able to explain all about the various exhibits. In one room there were exhibits about World War 1 and the part Brightlingsea played in it; in the second room there were exhibits about the history of Brightlingsea. Following the tour of the museum, Brian took some of us for a short walk around the town.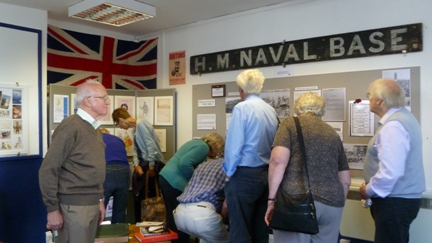 We all met up for a buffet lunch at the Yachtsmans Arms, a very welcome break.
On our way back to Maldon we stopped at All Saints Church where we were all given a guided visit, the church is believed to date back to the 1250's and has, around the walls of the nave, a series of memorial tiles, some of which date back to 1872. The concept of these tiles was born after the tragic year of 1883 when a large number of Brightlingsea men lost their lives in the North Sea. The tiles bear witness to the various losses suffered by this seafaring community. It is believed that such a memorial is unique in this country and is well worth seeing.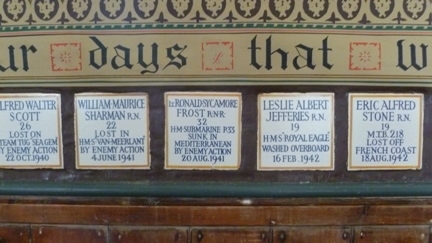 We then returned to Maldon where we arrived by 5:30pm.
---
Click here to go to the top of this page
This page opened in a new window. Close this window to go back to the Maritime Group's page.
Last revised 9th July 2016
---
---