Maldon U3A
22nd February 2017 - A '60s Evening with "Rock and Roll Dave"
The Met Office had been forecasting wind and rain all day but nearly 100 Members had assembled in Maldon Town Hall by 6.45pm and were seated in tables of 8 nicely presented with white table cloths and yellow over cloths. 45rpm vinyl records stood up on the tables to set the scene for a good Rock & Roll evening.
Nibbles and drinks of many different fashions were produced and sampled as the final persons settled in.
At 6.50pm the compere amounted that Rock & Roll Dave was ready to start and with that he bounced onto the stage to a blast of music. Dave was dressed in black like Billie Connolly but sporting an imaculate black boufon hair style as so many Rock Stars did all those years ago.
After 15 minutes we wondered whether more members of the band would appear on stage but no - Dave - was it. Typically the original band consisted of a drummer with 8 drums, a double base, banjo/guitar like Brian May CBE, sax/trumpet/clarinet/trombone, and the lead singer playing but sometimes just holding another guitar. Move forward 50 years and all have been replaced with just a singer, powerful transistor amplifier, mini mixing desk and a computer loaded with 1,000s of different pieces of music.
Dave's play list produced one classic tune after another to which he sang to - he knew all the words - and so did the audience from time to time when they sang along as well.
At 7.40pm Michael announced "the food has arrived" and the Social Committee issued Scampi and Chicken and Chips nicely presented in yellow cases pipping hot together with knife, fork, vinagar, salt and napkins. Background Rock & Roll accompaned the social chit chat as the lovely food was consumed.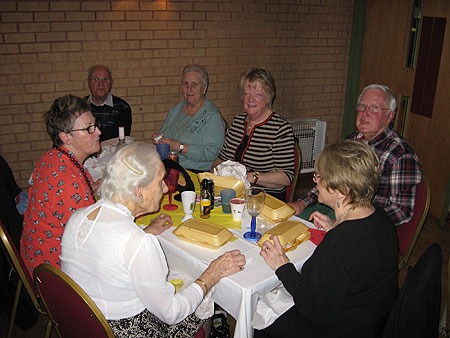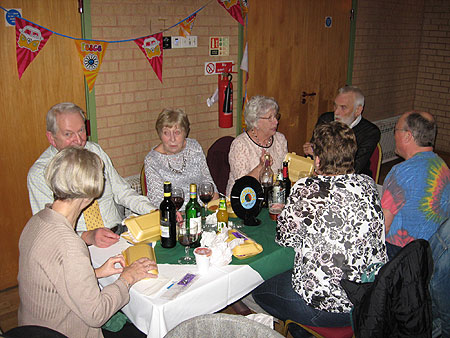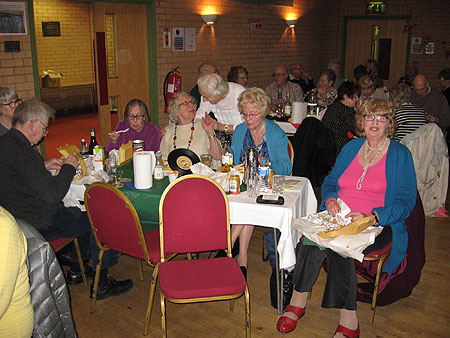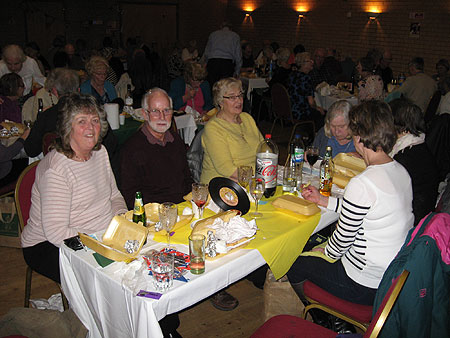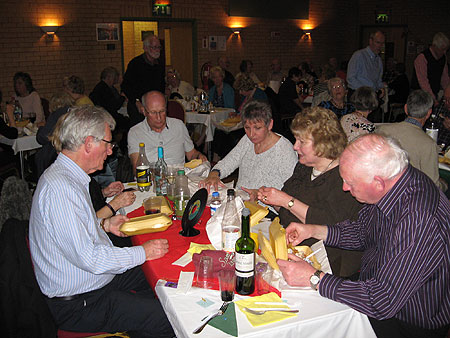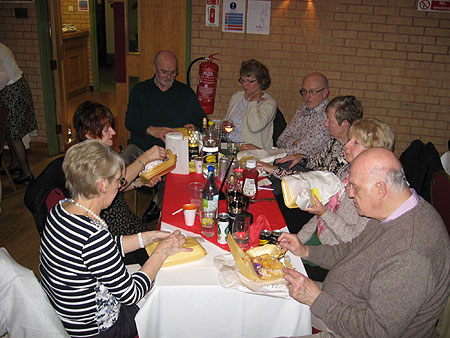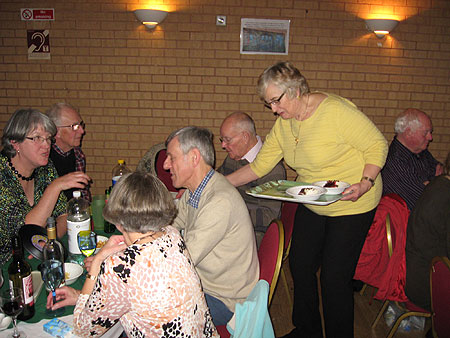 Once it was deemed that the first course was finished the Social Committee and helpers sprang into life and distributed a nice bowl of Black Forest Gateaux together with lashings of cream.
8.10pm Dave came back on stage and kept us entertained until 10pm without a break.
A heavy guitar number prompted Michael to dance around the floor with his Air Guitar going flat out - to a round of applause afterwards - well done.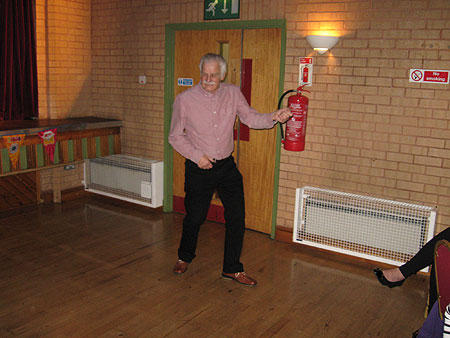 Slow numbers prompted quite a few members of the audience to get up off the nice padded seats and gently dance - gone were the days when you threw your partner over your shoulder - however I still suspect there will be a few aching joints as this is read.
Unfortunately, the computer kept Dave tied to the stage and prevented him from reminding us who sang some of the songs all those years ago - some of which the writer had not heard since the 1950/60s.
Another very good evening arranged by the Social Committee and Helpers - a vote of thanks was given at the end - well done to everybody.
---
Click here to go to the top of this page
This page opened in a new window. Close this window to go back to the previous page.
Last revised 23 February 2017
---