Maldon U3A

Past Social Events - French Evening 2006
Saturday, 25th February 2006, French Evening in the Maldon Town Hall.

Part of the Organising Committee greeting the invited U3A Members

Photographs taken by John Bowen

"French Ladies" welcoming their guests
Tony Mandara with his table (left) & Jan Robertson with her table.
Note the French Table Cloths.
What are they all looking at? Well after a typical French meal the evening
continued with a String Trio playing music made popular by Stephan Grappelli,
the French Jazz Violin Player.
Music included that by Fats Waller, George Gershwin, Duke Ellington and Django Reinhart.
Mike Piggott Trio on stage
Trio, close-up.
(Left to right) Mike Piggott, Violin - Jez Cook, Jazz & Rock Guitar - Peter Morgan, Double Base.
In this picture, Mike is playing an old Jazz Violin modified
with a trumpet to amplify the sound in a recording studio.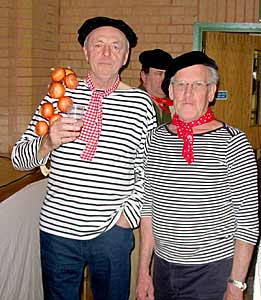 U3A Members during the interval
U3A Members during the interval
After the Interval the band played different variations using their

individual expertise. This included solos & duals.

A jolly good eveng's entertainment. Thanks to the Social Committee headed by Babara & David Arnold for organising it.

If you attended the evening with a bright red coat, please see if it fits properly as someone in error took Pauline Bowen's longer sleeved, shorter bodied & slightly brighter one!
She has yours.

---




Click here to go to the Top of this Page




To go back to the "Past Social Events Page", click the BACK Button on your Browser or click below.


Added 26th Feb 2006
---
---