Maldon U3A



January 2015 - Magic Evening in Maldon Town Hall

As if by Magic the Social Committee arranged an Evening of Magic on January 28th when 10 Magicians turned out in the cold to entertain us.

Ron Aldi was the Compere for the evening and told us a bit about who they were and where they were from. He then allocated one Magician to each table.

As every table had a different Magician I can only comment on what happened on my table - until others contribute their experiences.

Alan was first to us on Table 8 and he was great with a pack of cards. He could make a chosen card appear in the most unusuaul places - disappear - again - how do they do it?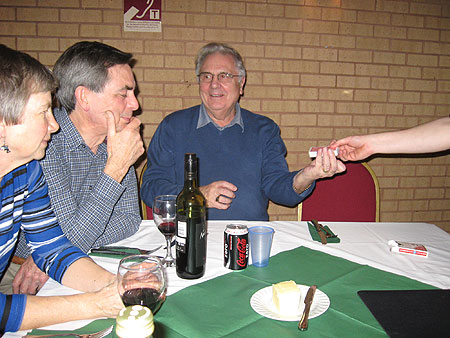 Alan with his cards. Mike is choosing a card.
How did he know that? The cards in the hands of Carol.
A stage act involved Mary Bird sportingly agreed to be on stage along side another U3A Member who was the musical director. It was more a game of confusion than magic but had everyone on their seats.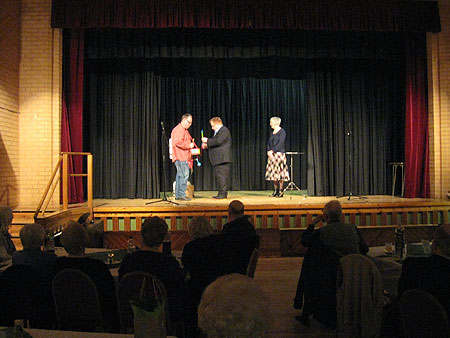 The "Musician", left, Richard centre and Mary right.
When the act finally completed a good round of applause was justified.
A break was introduced when a very nice Ploughmans Meal was served by the Social Committee.
Afterwards Ron Aldi appeared at our table with a variation of the spivs "3 Card Trick" - no wonder the American Tourists are fleeced in London. There was no way we could work out which card was next!
Ron Aldi with a small jug which could hide balls - produce balls and at the end even produce a huge green monster ball - there was NO-WAY that fitted into the jug - but it did.
Next was the turn of David on the stage to do a Spelling Test from the front to the back of the hall - an 8 letter word was chosen by a U3A Member while David at the front prompted for letters which made up the word - after 10 minutes of chearful banter the result was "Muffings" and so David did not have to hang himself - the rope was designed to break anyway!
David on the stool about to hang himself!
Richard from Rayleigh was last on and confused everyone with his "New Trick from America".
He finished off his act by showing everyone how a red handkerchief turns into a white one and back again and to finish- a bi-coloured one!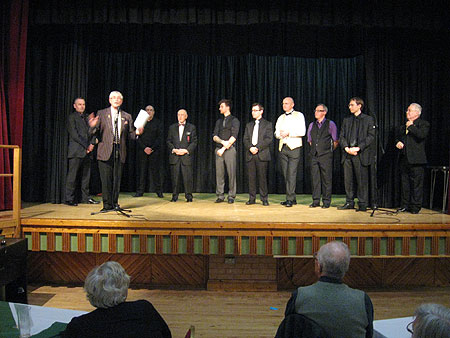 The Magician taking a Bow - very well done.
Thanks to the Social Committee for a great evening of food - company and Magic.
John Bowen.
---
Click here to go to the top of this page
This page opened in a new window. Close this window to go back to the previous page.
Last revised 23rd April 2015
---