February Monthly Meeting.

The Meeting started off directly with the introduction of Mr Bob Milme who would present "Forensic work in the Police Force"

In introducing himself he said he was until he retired in 2008, the Head of Forensics at New Scotland Yard, so we knew we were in for an interesting afternoon.
How Science came to Scotland Yard.
Bob traced the history of Forensic Science starting with the 1700s when the medical profession started to cut up dead people to try and understand how the human body worked. He then decribed in detail the many scientists and statiticians who year by year contributed to the eventual setting up of a Forensic Laboratory.
Finger printing was a major step forward but it took time for the Police Force to realise its potential.
As the presentation continued Bob explained a number of well know cases including the Al Capone organised massacre in America and details about Jack The Ripper in London.
He also told the story of Dr Crippen who was alleged to have murdered his Wife.
Copy from the Weekly Dispatch about Dr Crippen.
He was caught by Inspector Dews who caught a faster ship - the RMS Laurentic to Canada and arrested both Dr Crippen and Miss Le Neve on the RMS Montrose at Father Point in the middle of the St Lawence River.
Copy from a newspaper of the chase.
Photograph of Dr Crippen being led down the gangplank.
Bob comfirmed the leading Policeman seems to be carrying a shotgun.
Dr Crippen was found guilty of murder and hung but Miss Le Neve was not prosecuted. Amazingly DNA examination now shows that the body under No 39 was not that of his wife but of a male!
Bob concluded by telling of how Profiling can assist in tracking criminals with examples.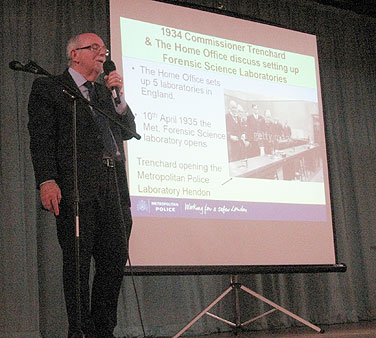 How Science came to Scotland Yard.
Thank you Bob for an interesting afternoon.
---
---
June Monthly Meeting - AGM.

On Monday June 15th, the seventeenth AGM of our U3A was held at Wickham Bishops Hall, at the meeting Brian Johnson was elected as Vice Chairman, Jan Robertson and Veronica Smith being elected on to the committee. After all the AGM formalities were completed, everyone then enjoyed strawberries and cream.
---
---