January Monthly Meeting
Veronica said she was pleased to be able to introduce a speaker because the scheduled speaker unfortunately was not able to attend today, however next month's speaker was able to travel from Loughton to be with us today. She is Sandra Grayson, a handwriting specialist. With that the microphone played up and was exchanged.
Sandra was wired for sound but that too played up so she used the wired hand microphone and introduced her subject of Calligraphy. With that the projector stopped working so she explained how she used to have a good job working for Corporate clients until the IBM Personal Computer appeared when they found they could obtain various Fonts with the click of a key on a keyboard. She then got a good job in the City until one day while teaching a 8 year old child about handwriting she realised she was in the wrong profession and gave in her notice.
She said this was one of those Life Changing Moments - she then started teaching handwriting full time and ended up on cruise ships. 24 countries later she now lectures to the U3A and WI and similar organisations - however next year she will be in Stratford Upon Avon and opening a Calligraphy School which will be open to everyone.
At this stage the projector was started (audience clapped) with the aid of Sandra's extension lead and a move of the sound desk. Sandra then showed samples of handwriting on the screen and explained how one could get a good idea about the writer. A list of what can and cannot be interpreted from the handwriting was presented and discussed. The signature followed by a full stop caused some amusement because it meant the writer is saying "I have had the last word".
A selection of famous signatures were then shown and explained - very interesting. After a Question and Answer session Veronica thanked Sandra - the audience expressed their thanks as well.
Thank you Sandra for turning up today and with your interest you explained the subject so well - we wish you well in Stratford Upon Avon.
John Bowen
---
March Monthly Meeting
With rain threatening and a high wind we were ushered into the large hall having first collected our new Membership Badges – assuming we had paid!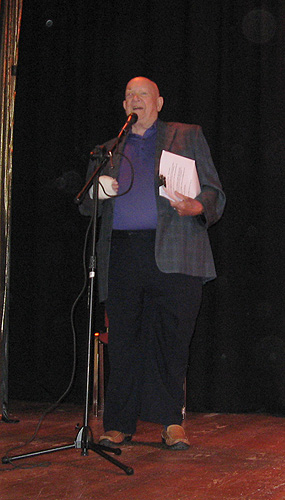 Our Chairman appeared on stage nursing what looked like a broken arm and carried out the normal introduction duties.
After the usual 10 minute break to enable Members to sign up for the many coming events, Henry VIII was introduced.
With a tremendous roar Henry leapt onto the stage, dressed as though he had just left his Chambers.
Amidst gasps of bewilderment, John Strange introduced himself in a bold manner – a manner he continued to entrance us with for the best part of an hour.
He concentrated on his 6 Wives.
Born on the 28th June 1491 at Greenwich Palace he became heir to the English Throne in 1502 but became King at age 18 on the untimely death of his brother in 1509. Soon afterwards he obtained the Pope's permission to marry his Brother's Widow, Catherine of Aragon.
He reminded the audience that the sole duty of a Royal Wife was to produce a male heir and so continue the Tudor line. Unfortunately this was not to be the case with Catherine producing only Mary after a number of miscarriages. He said he was married to her for 24 years – much to the amazement of the audience.
An annulment was request from Pope Clement VII, who did not agree as Catherine of Aragon's Nephew was Charles V – the most powerful ruler in Europe at that time.
Henry then declared that he was the Head of the Church of England and married Anne Boleyn in a secret ceremony.
In 1533 Anne gave Henry a daughter, Elizabeth ( the future Queen Elizabeth I) but after a couple of miscarriages Henry was still waiting for his heir – she was arrested in 1536 and beheaded in the Tower of London.
Henry was a very good jouster but fell off he horse in 1536 and was unconscious for 2 hours – he was very badly shaken up and suffered a leg wound which became ulcerated and remained with him for the rest of his life.
His 3rd wife was Jane Seymour, the Lady-in-Waiting to Anne and did produce the heir Henry so desperately wanted – she died in childbirth.
Henry looked far and wide for a wife and was persuaded to marry Anne of Cleves from Germany. Hobarth painted a miniature of her from the front – Henry was not to know she was "ugly" and could not speak English. She agreed to an Annulment and was given a generous settlement including Hever Castle and the name "The Kings Sister" and outlived his later 2 wives and the King, dying in 1557.
In 1540, Henry married Catherine Howard but was short lived as he found out she had been unfaithful – she was executed for adultery and treason in 1542 in the Tower of London.
His final marriage was to Catherine Parr who really acted as a nurse maid to him – by now he weighed some 28 stone with a waist of 60 inches and ulcerated legs.
He died on 28th January 1547 and was succeeded by his son, Edward VI. Henry was buried next to Jane Seymour in St Georges Chapel in Windsor Castle.
Catherine Parr soon married Thomas Seymour and moved to Sudeley Castle in Winchcombe near Cheltenham where she gave birth to Mary but soon fell ill and died and then buried there - you can still visit her tomb. John said she is the only English Queen not to be buried in Royal Grounds. She was 36.
A superb afternoon with great presentation – half without the microphone – enjoyed by all. Thank you to John Harris.
John Bowen
---
---
---
Click here to go to the top of this page
This page opened in a new window. Close this window to go back to the previous page.
Last revised 21 March 2017.