December Monthly Meeting
On a mild afternoon, the Members packed the hall at Wickham Bishops to the strains of Christmas music and a large screen displaying the safety instructions.
The stage was nicely decorated with Christmas wrapped boxes and a christmas tree by Marrie Webster and helpers.
Once people had signed in and collected their Newsletter, it was reported "there was good news and bad news – the entertainer had phoned in two days ago to say he had a dreadful throat"– loud groans from the audience – "but today he said he thought he could make it" – cheers. "However to start things off, a number of members had put together a few things to amuse you" – more cheers.
Andy Simmonds – started off by reciting a poem.
This starts off: -
I have a little Satnav, it sits there in my car.
A Satnav is a driver's friend it tells you where you are.
I have a little Satnav, I've had it all my life.
It's better than the normal ones, my Satnav is my wife.
It gives me full instructions, especially how to drive
and finishes with these words:
Despite all these advantages, and my tendency to scoff,
I only wish that now and then, I could turn the lovely thing off.
With thanks to Pam Ayres for such a nice poem when driving home for Christmas.
Judith Johnstone – then stated the "EU's Health and Safety Guidelines for Santa":
Please be advised that all persons planning to dash through the snow in a one-horse open sleigh, going over the fields and laughing all the way, are required to undergo a Risk Assessment addressing the safety of open sleighs.
It finishes with these words -
Finally, in the recent case of the infant found tucked up in a manger without any crib for a bed, Social Services have been advised and will be arriving shortly.
Next it was the turn of Veronica Smith & Malcolm Case and a rendition of 'The Twelve Days of Christmas' by John Julius Norwich.
This included the following samples: -
25th December - My Dearest Darling – Thank you for sending a Partridge in a Pear Tree
29th December – 5 Gold Rings
31st December – 7 Swans trying to get into the Fish Tank
4th Jan – Man from the Council has just raided us to take away some of your noisy inhabitants.
The main entertainer, Banjo artist Steve Galler was introduced by Veronica to a rousing clap from the audience.
Steve said he was pleased to be in Essex with only a slightly poor throat. He then introduced us to the Banjo and how it differed from the Guitar which is what he thought his mother was going to buy him as a 9 year old child.
He then kept the audience occupied singing songs from the 1500s through to the early 1960s – with the request that they joined in as well – what an invitation.
A well-earned break by Steve produced plates of lovely food and drinks provided by Shirley Macro, Andy Simmonds and helpers.
For his second half Steve told numerous musical stories involving his Banjo.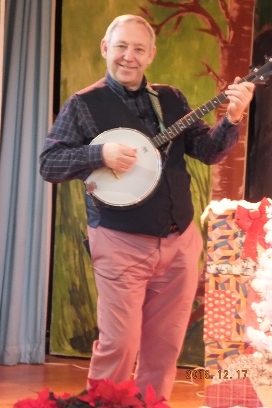 He was thanked by Veronica and a tremendous clap from the audience.
A very good afternoon's entertainment with party food and drink.
The Audio/sound system was by Alec Fraser and Ken Cooper.
Report by John Bowen with the assistance of Veronica Smith.
---
Click here to go to the top of this page
This page opened in a new window. Close this window to go back to the previous page.
Last revised 22nd December 2018.