February Monthly Meeting
Suzanne Gaywood was introduced as the lady who does the Grenada Flowers at Chelsea.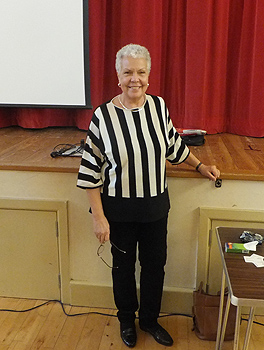 Suzanne Gaywood.
Photo by John Bowen
She started her presentationby saying that she was born and raised in Grenada, married an Englishman and moved to Woodham Walter near Maldon. She used her flower arranging skills to arrange flowers in the local church and then in 1989 she assisted the Windward Islands team in exhibiting at Chelsea. RHS Chelsea Flower Show first started in 1862 and moved to the 21 acre site of the hospital in 1913.
Using the experience gained, she decided to exhibit in 1998 for Grenada and was awarded Silver followed by Silver Gilts in 1999 and 2000. Once allocated an area, one has to design a theme – in 2001 this was around a wooden hut built by Poulton Portables of Danbury but modified on-site to satisfy the judges at Chelsea. One side of the hut was open to the public – the whole area was covered with beautiful exotic flowers from Grenada and for this she was awarded her first Gold Award.
In total she was awarded a Silver, 5 Silver Gilts and 10 Gold Awards – what an achievement!
Flushed with success, she arranged to exhibit again but her husband reasoned that they could design and build the next "set" in their back garden with the assistance of neighbours. They called themselves "The Chelsea 8". This was the format adopted for the next 16 exhibits.
Each year, Suzanne had to think of an exhibition theme such as churches, sandy shore lines, water wheels, special buildings used to dry nutmegs (Grenada being the second largest producer in the world), representation of the dreadful Hurricane Ivan which hit Granada in 2004, 'Island in the Sun', to name but a few.

Cast Away.
Photos by kind premission of Suzanne

Tropical Paradise.

Spice Island.

Nutmegs and Other Spices.
The Grenada Tourism Authority has been a leading sponsor of the exhibition. Typically 80 boxes of flowers are flown in each year with some 80% grown by Suzanne's friend, Denis Noel who exports Ginger Lilies, Heliconias and other exotic flowers throughout the World.
This exhibition shows to the typical 150,000 people who visit each year what a wonderful Country Grenada is to visit with its trees, lush vegetation and flowers.
In 2011 she was made a MBE in Recognition for her Services to Tourism in Grenada and to Horticulture. She showed a slide of her investiture by the Queen, who had a few words with her at that time.
She showed a number of slides of each year she exhibited and with some of the Grenada born personalities at Chelsea including Lance Sergeant Johnson Beharry VC, Ainsley Harriot, Emma Thompson, Joanna Lumley, Sir Trevor Mc Donald, & a host of other celebrities including our Queen, who was a regular visitor, the High Commissioner for Grenada, Mr Joslyn Whiteman, and Mrs Catherine John to whom she passed the baton to continue exhibiting in 2015.
Suzanne now uses her knowledge of the island and horticulture to show groups of visitors around private gardens in Grenada in November.
Click here to see the website for Suzanne's tours: http://www.gardentours.co.uk
A lovely afternoon of photographs of beautiful flowers, interesting stories told in a pleasant manner.
We trust your cold was not worsened by your presentation which was very much enjoyed.
Report by John Bowen with grateful assistance from Suzanne.
---
Click here to go to the top of this page
This page opened in a new window. Close this window to go back to the previous page.
Last revised 25 February 2019.