Kew Gardens & National Archive Centre Coach Outing.
Pauline Bowen organized a Coach Outing to Kew Gardens & National Archive Centre on Tuesday, 28th February 2006 and invited Maldon and West Maldon U3A Members to join the party.
Report
The Maldon party joined the coach at Eve's Corner then went to the main pick-up at the Vineyards, Great Baddow with a small pick-up at the White Bear, Galleywood. We got to Kew on time at 10.45 where the party under the leadership of Marjorie Ennew got off to do their research at the new buildings which comprise the National Archive Centre. Pauline had Pre-Registered those without Reader Cards for easy entrance. The coach then continued to Kew Gardens where the remainder got off at the Main Gate.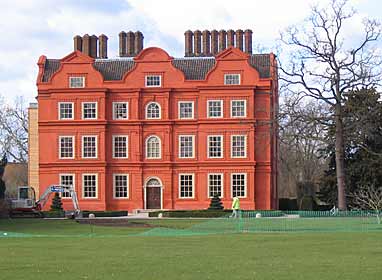 Kew Palace, which should be open to the public later in the year.
The Palace (or Dutch House as it was originally called) was built for Samuel Fortrey, a merchant of Dutch origin in 1631. George III acquired the house in the 18th centary & used it as an annexe to Kew house for his 15 children. In 1818 two of his Sons were married there.
Photos by John Bowen
First call was for a cup of coffee or tea.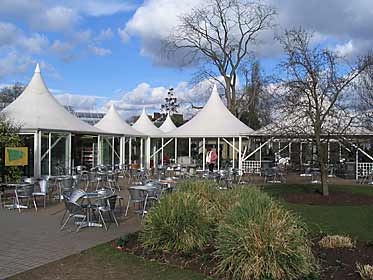 The Orangery (left) and White Peaks (right)
The Orangery was designed by Sir William Chambers and built in 1761.
It was used as such until 1841, then as a glasshouse, although lack of light meant the plants barely survived. It was later used as a wood museum but is best as a Resturant today.
Princess of Wales Plaque to commemorate to opening the Conservatory in 1987.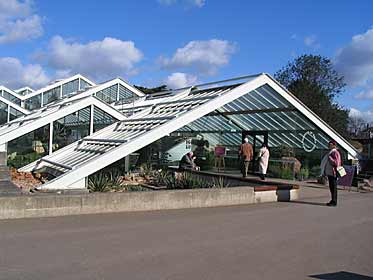 Princess Of Wales Conservatory.
The main aim of the visit was to see the 12th Annual Orchid Exhibition.
250,000 Orchids are on display in this Conservatory.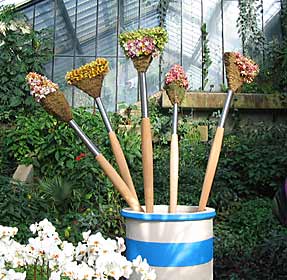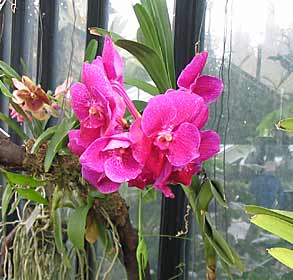 Having finished the tour of the Orchid Exhibition there was time for lunch and make our way to the Main Gate for 2pm. Pauline had organised a trip around Kew in the Mobility Discovery bus - this was a special long wheel base Transit type van with Air Conditioning, PA system & mirrored windows, very posh.
Jude, our driver gave a running commentary of points of interest as we wound our way around the vast grounds.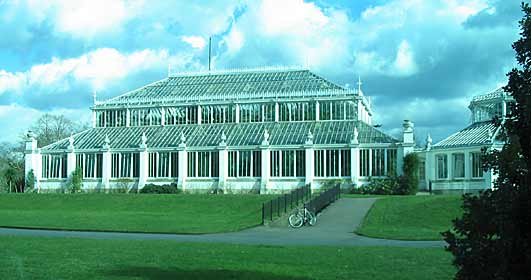 The Temporate House which has just completed a major "tidy-up" & the Pagoda (right) which maybe open to the public soon.
The Temporate House was designed by Decimus Burton & was started in 1860 and completed in 1899. It was only opened for short periods due to problems with the sliding roof ventilation.
The Pagoda was designed for Princess Augusta by Sir William Chambers and built in 6 months, 1761-2. It is 50m (163 ft) high. During the WWII it was used to test bomb fins.
As we travelled various birds ran towards to bus, they knew Jude had appropriate bird seed for them.
The brightly coloured Ornamental Pheasents were very tame with their striking plumage.
The Peacocks made quite a show and a noise.
Having got back on our coach we returned to the National Achive Centre to pick up those who had been studing their history & we then returned to Chelmsford for about 6pm.
Thanks to Marjorie Ennew for assisting with the trip.
Write-up by Pauline & John Bowen.