The Polesden Lacey Coach Outing with Great Baddow & Galleywood U3A.
Pauline Bowen organized a Coach Outing to National Trust property Polesden Lacey on Thursday, 30 June 2005 and invited Maldon U3A Members to join the party.
Report
On a grey day Members of Maldon U3A joined Great Baddow & Galleywood U3A on a visit to Polesden Lacey near Dorking, Surrey.

Polesden Lacey house, from the rear.
A quiet haven, away from the hub-bub of life, it was no wonder that Edward VII as well as many other important and colourful people visited the Victorian House and walked the grounds admiring the abundant Rose bowers, as we did.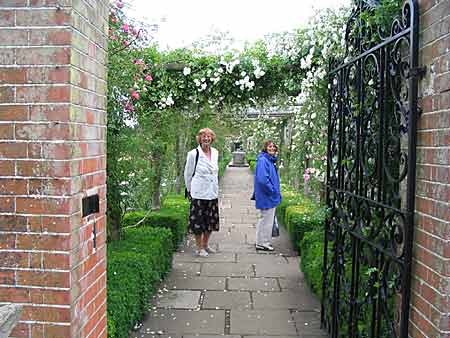 Outing Organiser, Pauline & Maureen in the Rose area
Coldframe in the Kitchen Garden
Polesden Lacey was rebuilt for Mr & Mrs Ronald Greville by her Father with money made by producing McEwans Export Beer which did not "go off" in hot countries and was bought by the British Army. Mr Greville died in 1908 but Mrs Greville lived there until she moved to London in 1939 and died in 1942.
Lavender border in the Walled Garden
During her life she invited nobility to enjoy her hospitality. In 1924 Mrs Greville had 6 Rolls Royce's and a long wheelbase van with a driver just to bring the guest's baggage from the railway station to the house!
George VI and his new Wife, the late Queen Mother, honeymooned there.
Mock-Orange shrub near the Gardener's Cottage
There are 9 rooms in the house open to the public.
On the upper floor a NT Attendant put an old record on the gramophone while we looked at the family photograph albums. I noticed our Queen as a tiny girl running along a path in the garden.
Mrs Greville equipped the main room in the house to look like a miniature Buckingham Palace with an enormous chandelier, which takes National Trust workers 3 days to clean.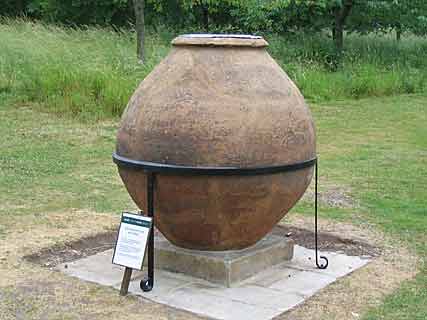 Roman Jar
After admiring the paintings - many of them Dutch, we wandered around the beautiful undulating grounds with a display of sculptures.

2 of the many scultures on display
It was quite a shock joining the heavy traffic again on the way home round the M25 after "going back in time" for a while.
Thanks to Di Angel for assisting with the trip.
Write-up by Pauline & John Bowen.